Amongst the breathtaking landscapes of Utah lies a gem that beckons outdoor enthusiasts and campers alike—Moab State Park.
Moab State Park is perfect for travelers searching for excitement and peace. The park boasts breathtaking red rocks, nice paths, and incredible views.
Get ready for a memorable adventure at Moab State Park with our complete guide.
Preparing for Your Moab Adventure

Heading to Moab State Park is exciting, but preparation is the key to a successful trip.
At Daniels Summit, we believe in making every trip seamless and memorable.
Here's how you can gear up for your Moab escapade:
Essential Camping Supplies Near Moab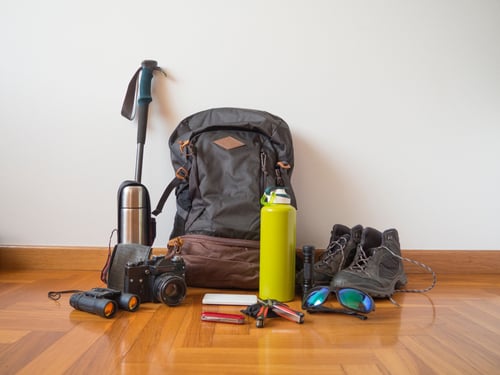 Before setting up camp in Moab, ensure you have the right gear. GearHeads Outdoor Store in Moab is a top pick for outdoor enthusiasts.
They offer a vast range of equipment, whether you're camping, climbing, or hiking. With over 100,000 items in stock, they boast Moab's most extensive selection of outdoor gear.
Stocking Up: Grocery Stores in Moab, Utah
A successful camping trip is as much about the food as the location.
Whether you're planning a campfire barbecue or need quick snacks for your hikes, City Market has you covered. Find everything from fresh produce, meats, and other camping essentials.
For a more local experience, Moonflower Community Cooperative offers organic and locally sourced products.
Getting There: Airports Near Moab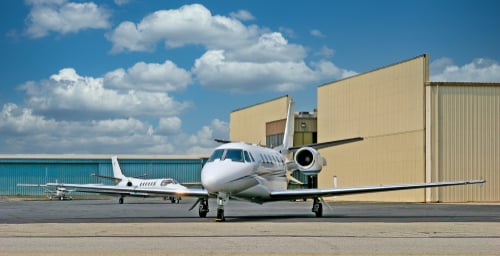 For those flying in from afar, ensure you know your options.
Canyonlands Field Airport (CNY) is the closest airport to Moab, approximately 11 miles from the park entrance. This airport provides regional flights, making it a convenient option for travelers.
Grand Junction Regional Airport (GJT) is about 109 miles from the park entrance. It serves as a larger transit hub compared to Canyonlands Field Airport.
Related Reading: How to Plan Your Visit to Wasatch Mountain State Park
Dive into Moab State Park's Beauty
Moab State Park offers more than just a camping destination; it invites exploration and promises a unique experience. With its vast landscapes, towering rock formations, and scenic trails, every corner of this park promises a new adventure.
At Daniels Summit, we've curated a list of must-do activities and trails to make your visit unforgettable.
Best Hikes in Moab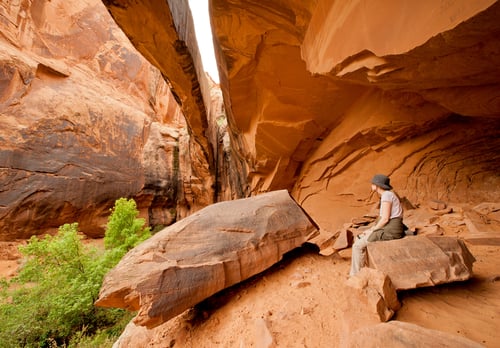 Moab is a hiker's paradise, offering trails designed for beginners and seasoned trekkers. Here are some of our top picks:
Delicate Arch — This 3-mile round trip takes you through captivating terrains, culminating in panoramic views from the iconic Delicate Arch.
Fisher Towers — For those seeking a challenge, this 5.2-mile round trip provides stunning vistas of the Colorado River and red rock formations.
Corona Arch — A shorter, moderate 2.5-mile journey leading to the arch, which is incredibly captivating at sunset.
Beyond Hiking: Other Activities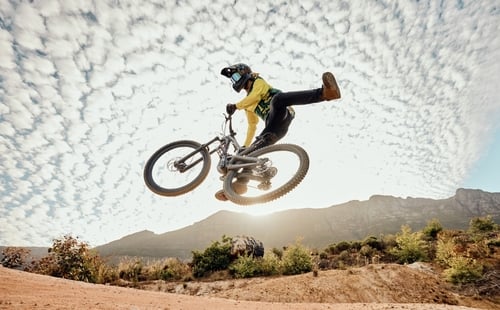 While hiking is a significant draw, Moab State Park offers various activities:
Mountain Biking — Moab is a hotspot for mountain biking enthusiasts with its rugged terrain. Trails like the Slickrock Bike Trail are renowned worldwide for their challenging routes and scenic beauty.
Rock Climbing — The sandstone cliffs of Moab provide ample opportunities for climbers to test their skills. Areas like Wall Street are popular spots for both beginners and experts.
Stargazing — The clear skies of Moab make it an ideal location for stargazing. Set up camp at a designated spot, lay back, and watch the stars come alive.
Local Attractions and Landmarks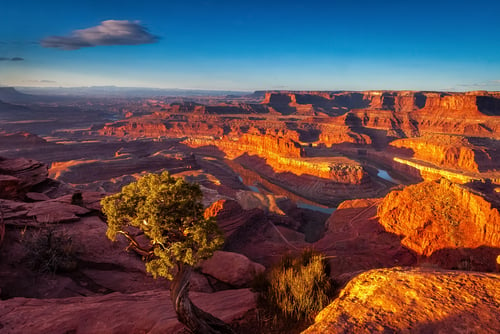 Beyond the park's boundaries, Moab has several attractions worth exploring:
Dead Horse Point State Park — Located close to Moab, this park offers breathtaking views of the Colorado River and surrounding canyons.
Arches National Park — Home to over 2,000 natural stone arches, this park is a must-visit for its unique landscapes and geological wonders.
Related Reading: Everything You Need to Know Before Visiting Jordanelle State Park
Savoring Moab's Delights
After a day of exploration and adventure, nothing beats the comfort of a hearty meal. With its blend of local eateries and international cuisines, Moab promises a gastronomic treat for every palate.
Restaurants in Moab, Utah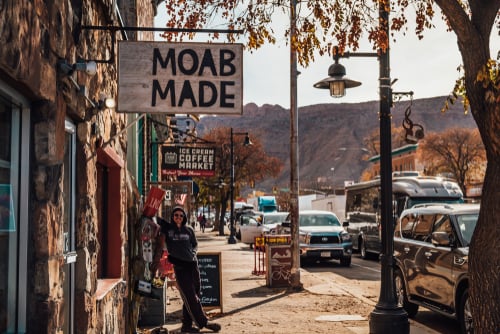 Moab's dining scene is as diverse as its landscapes. Whether you're craving a gourmet meal or a quick bite, here are some places we at Daniels Summit recommend:
Moab Brewery — Known for its craft beers and hearty American fare, this is a favorite among locals and tourists.
Desert Bistro — Offering a fine dining experience, Desert Bistro serves up exquisite dishes made from locally sourced ingredients.
The Spoke on Center — Located in the heart of Moab, The Spoke on Center offers a diverse menu ranging from gourmet burgers to fresh salads, making it a favorite dining spot for locals and tourists.
Understanding Moab's Environment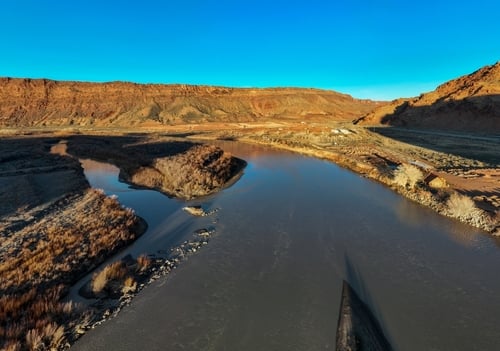 Moab's unique environmental conditions define its beauty. That being said, you should stay up-to-date with the outside conditions:
Weather Conditions in Moab — Moab experiences a desert climate. Summers can be scorching, with temperatures often exceeding 100°F, while winters are cold, with occasional snow. Spring and fall are the most pleasant times to visit, with mild temperatures and blooming flora.
Moab, Utah Flooding — While rare, flash floods can occur, especially during the monsoon season. Always check weather forecasts before hiking in canyons and avoid low-lying areas during heavy rainfall.
Wildlife and Conservation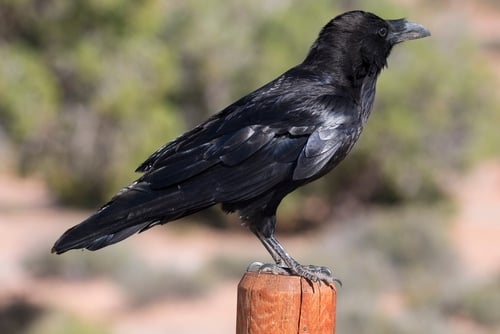 Moab's diverse ecosystem is home to various flora and fauna. From desert-adapted plants to unique animal species, the region is a haven for nature enthusiasts. However, with the beauty of its natural inhabitants comes the responsibility of preserving them.
Desert Adaptations — The plants and animals of Moab have evolved to thrive in its arid conditions. From the deep roots of desert plants to the nocturnal habits of many desert animals, these adaptations are fascinating to observe.
Local Wildlife — Moab is home to creatures like the desert bighorn sheep, peregrine falcons, and the collared lizard. While spotting them can exciting, observe them from a distance and not disturb their natural habitats.
Conservation Initiatives — The community and park authorities work hand in hand to protect Moab's delicate ecosystem. As a visitor, you can contribute by following "Leave No Trace" principles, staying on designated trails, and respecting wildlife.
Community and Culture
Beyond its natural wonders and recreational activities, Moab has a rich tapestry of history, culture, and community.
We believe that understanding the heart of a place enhances the overall experience. Here's a closer look at the vibrant community of Moab and some essential facts every visitor should know.
Population — Moab is more than just a tourist destination; it's a thriving community. With around 5,300 residents, this town is a blend of long-time locals, artists, adventurers, and entrepreneurs. This community's warmth and hospitality make visitors feel right at home.
Local Events — Moab hosts various events throughout the year, from art festivals to adventure races. Checking out the local events calendar can add extra excitement to your trip.
Conservation Efforts — Moab's residents are passionate about preserving the natural beauty of their homes. Visitors are also responsible for respecting the environment, adhering to park guidelines, and minimizing our footprint.
Related Reading: The Ultimate Deer Creek State Park Travel Guide
Moab State Park is more than just a destination; it's an experience that leaves an indelible mark on every visitor. From its awe-inspiring landscapes to the warmth of its community, Moab offers a unique blend of adventure and peacefulness.
At Daniels Summit, we're passionate about the great outdoors. We believe that with the right information and preparation, every trip will be a cherished memory.
Whether hiking up to Delicate Arch, dining at a local eatery, or simply gazing at the stars, Moab promises moments of wonder at every turn.
We hope this guide serves as a valuable companion on your journey, helping you navigate, explore, and savor all that Moab State Park has to offer.
Join the Daniels Summit Community
Your adventure doesn't have to end here. For more tips, insights, and guides on outdoor adventures, subscribe to our newsletter, head to our homepage, and follow us on social media.