Are you ready to dive into the cool, refreshing waters of Utah's most stunning swimming spots? Utah's diverse landscapes have sparkling lakes, flowing rivers, soothing hot springs, and hidden swimming holes perfect for a summer dip.
With so many options to choose from, it can be hard to know where to start. In this article, we'll highlight some of Utah's best swimming spots, including top lakes, rivers, hot springs, and swimming holes.
Best Lakes in Utah
Utah is home to numerous natural lakes, providing ample opportunities for swimming, fishing, and boating. Here are five of the most popular lakes in Utah:
Utah Lake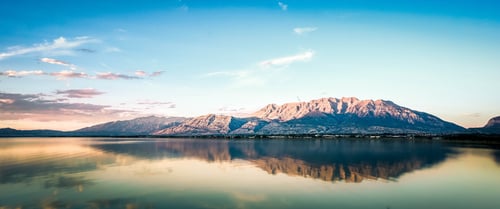 Being the largest freshwater lake in the state, Utah Lake is a must-visit destination. Its expansive waters offer ample space for boating, fishing, and swimming, making it a paradise for water enthusiasts.
Pineview Reservoir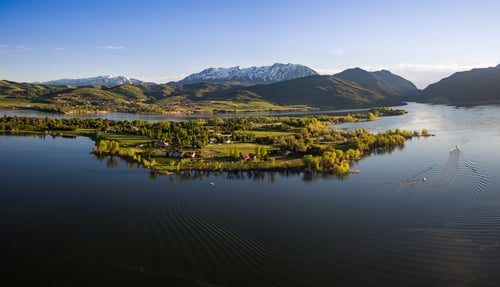 Tucked away in the Ogden Valley, Pineview Reservoir is a popular spot for swimming, boating, and fishing. The sandy beaches and warm water make it a perfect summer retreat. Beautiful mountain views surround the reservoir, providing a picturesque backdrop for your swimming adventures.
Deer Creek Reservoir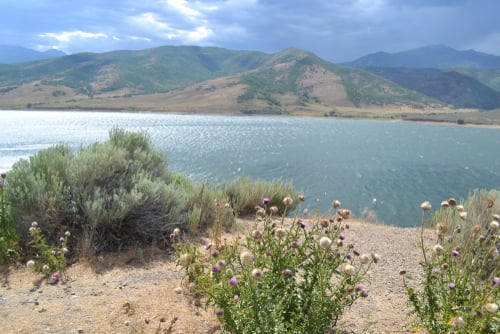 With its warm waters and stunning mountain backdrop, Deer Creek Reservoir is an excellent spot for swimming, boating, and windsurfing. The reservoir is also home to various fish species, making it a popular destination for anglers.
Bear Lake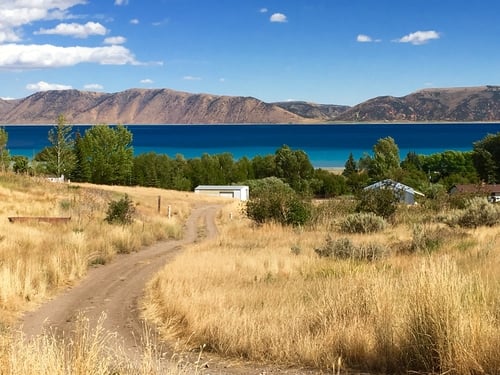 Bear Lake, known as the "Caribbean of the Rockies," has beautiful blue water and is loved by locals and tourists. The lake boasts several public beaches perfect for swimming and water sports. The area is great for hiking and seeing wildlife, making it perfect for a day trip or weekend getaway.
Flaming Gorge Reservoir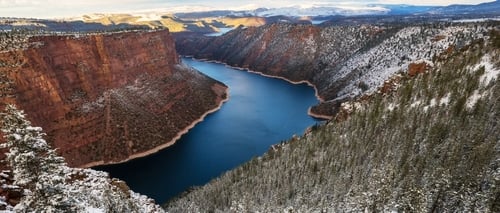 Flaming Gorge Reservoir has beautiful red cliffs and clear water, with many sandy beaches for swimming and sunbathing. The reservoir is also a popular destination for boating and fishing, with several fish species, including trout and bass.
Related Reading: Horseback Riding Lessons - Utah and Beyond
Flowing Rivers in Utah
Utah is home to some of the most beautiful rivers in the country. Whether you're looking for a peaceful float or a thrilling white-water adventure, Utah has a river perfect for you. Here are five of the best rivers to explore:
Colorado River

The Colorado River offers several swimming spots, particularly in the Moab area. The river's calm sections are perfect for a relaxing swim. The surrounding red rock scenery contrasts the river's blue waters, making it a must-visit location for nature lovers.
San Juan River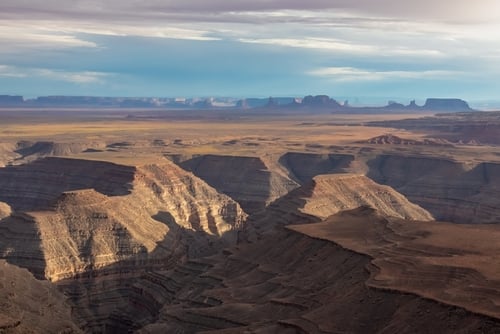 The San Juan River in Utah is great for swimming and tubing because it has warm water and sandy banks. The river is also known for its spectacular gooseneck bends, which can be viewed from the Goosenecks State Park.
Green River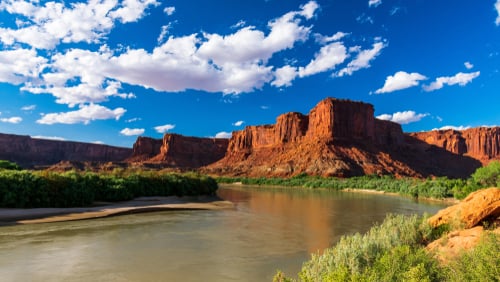 The Green River, particularly the section through Desolation Canyon, offers numerous sandy beaches and calm waters for swimming. The river is also a popular destination for rafting and kayaking, offering a range of rapids for different skill levels.
Virgin River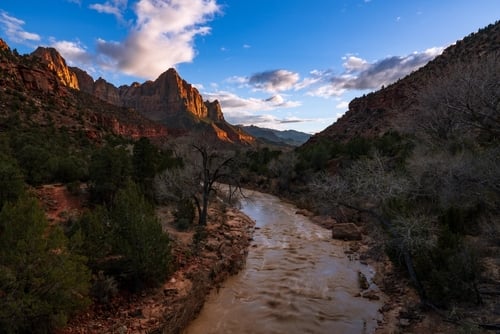 The Virgin River made Zion National Park and has many swimming spots, especially in warmer areas with lower elevations. The river is also a popular spot for tubing, offering a fun and relaxing way to cool off during summer.
Weber River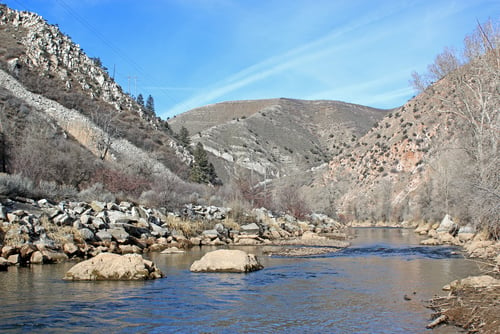 The Weber River offers several spots for swimming, particularly in the Rockport Reservoir and Echo Reservoir areas. The river's clear, calm waters make it a refreshing place for a summer swim.
Related Reading: Our 15 Favorite Things to Do in Provo, Utah
Steamy Hot Springs in Utah
If you want to relax and unwind in Utah, there are plenty of hot springs to choose from. Cozy up in the naturally heated water and take your time soaking in its warmth during the coldest months. Depending on what you're looking for, some might be more remote while others almost feel like a resort-style experience. Here are five of the top hot springs destinations in Utah.
Fifth Water Hot Springs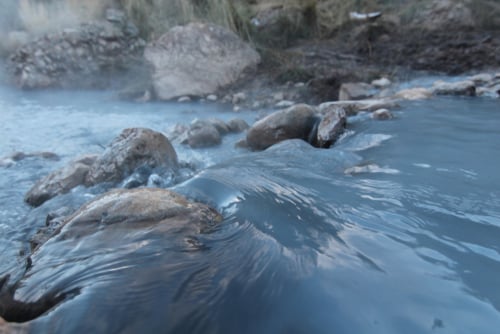 Located in Diamond Fork Canyon, Fifth Water Hot Springs offers several pools with varying temperatures, surrounded by beautiful mountain scenery. The hike to the hot springs is equally rewarding, with stunning views of the canyon and the surrounding wilderness.
Mystic Hot Springs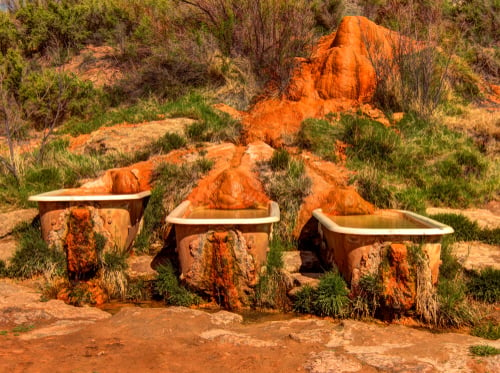 Known for its unique mineral formations and rustic bathtubs, Mystic Hot Springs offers a truly unique hot spring experience. The hot springs are also home to a variety of wildlife, including deer, foxes, and a variety of bird species.
Homestead Crater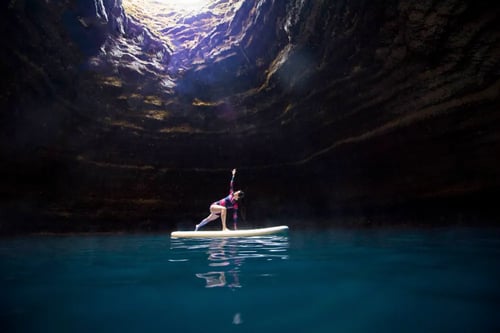 Homestead Crater, a geothermal spring located within a 55-foot tall, beehive-shaped limestone rock, offers a unique swimming and snorkeling experience. The crater's warm, mineral-rich waters are believed to have healing properties, making it a popular destination for wellness seekers.
Crystal Hot Springs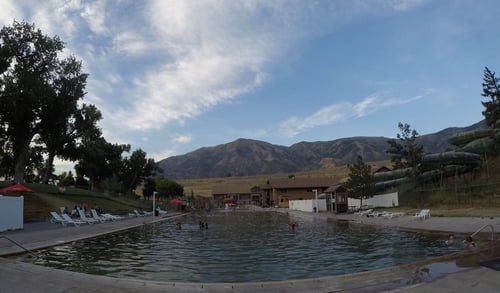 Crystal Hot Springs has pools and hot tubs with high mineral content. The temperatures range from 120 to 134 degrees. The hot springs also have a variety of amenities, including a campground, picnic areas, and a water slide.
Baker Hot Springs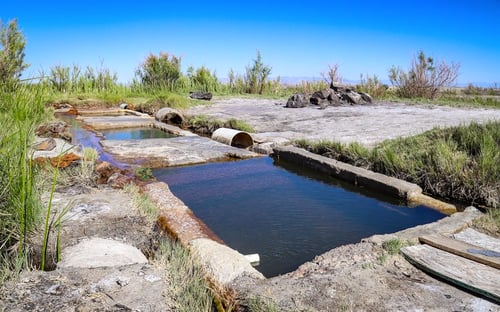 Located near Delta, Baker Hot Springs offers three concrete soaking tubs with adjustable temperatures. The hot springs are located in a remote desert area, offering a peaceful and relaxing environment for a soak.
When visiting hot springs in Utah, it's important to keep in mind that many of them are located on private property. Always respect the rules and regulations of the area and leave no trace. Additionally, it's important to be aware of the water temperature and any potential hazards, such as slippery rocks or strong currents. With these precautions in mind, a soak in one of Utah's hot springs can be a truly relaxing and rejuvenating experience.
--
We hope this guide has inspired you to explore the best swimming holes in Utah. Feel free to contact us at Daniels Summit Lodge for lodging or other summer activities to complement your aquatic adventures.
Remember, Utah's diverse landscapes offer more than just stunning swimming spots. It's also home to many hiking trails, camping sites, and outdoor activities waiting to be discovered. Enjoy your Utah outdoor adventure, whether you swim in a lake, drift in a river, or relax in a hot spring. Savor every moment of this experience.
Happy swimming!