You might have heard that Heber City, Utah is a winter wonderland. Well, that's true, but it's not really the whole story. Step into this Heber Valley gem, and you'll quickly realize that it's the ultimate year-round vacation destination.

In this blog, you'll learn about the best things to do in Heber City, including fun ski outings, dining, horseback riding, hiking, ziplining, tubing adventures, and more. Let the fun begin!
Summer Activities

Claim your share of things to do in Heber City's mild summer season by getting outside and getting active!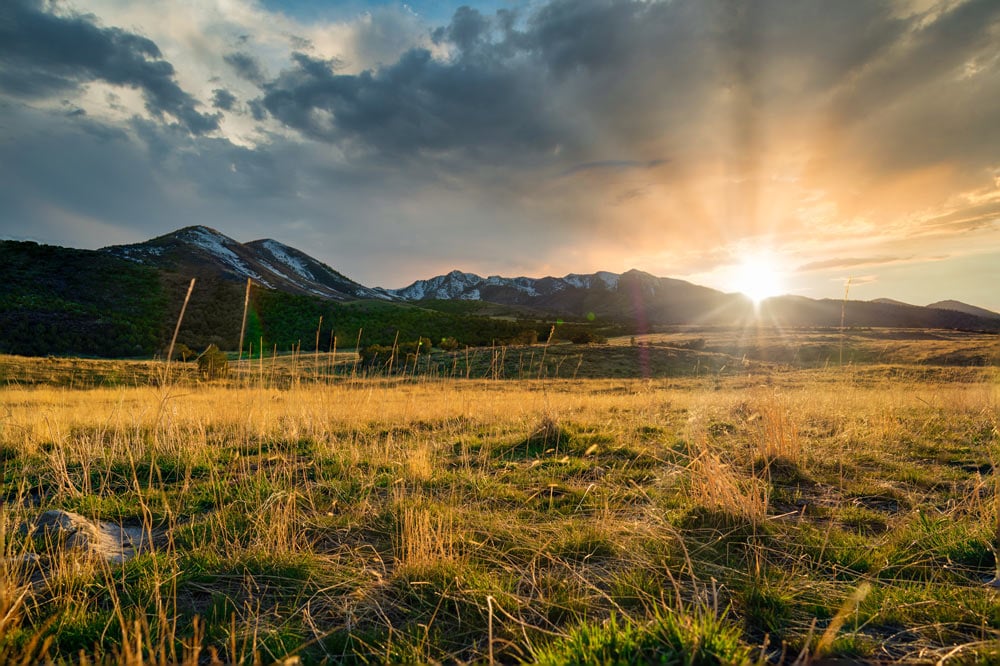 1. Connect With Nature on a Camping Trip
Want a relaxing and fun way to unplug from digital life but are skeptical of going on a camping getaway? Fret not. Heber City will make sure you have all the inspiration to do so. There's no better way to get close to the city's sprawling wilderness than by making one of its many campgrounds home for a few nights, either in a fully equipped RV or a tent under the stars.
2. Explore Uinta National Forest on an ATV
Uinta National Forest is known for its high elevations and cool temperatures. It is particularly popular for backpacking since it includes the gateway to Kings Peak – Utah's highest point. However, its long trails and numerous wilderness areas make it perfect for UTV riders.
Equally, the trail offers challenging climbs and steep drop-offs that are great for expert UTV riders. Add it to your bucket list and test your riding skills on the Uinta National Forest ATV trail. Looking to ride for multiple days? Our mountain-style lodge is conveniently located at the entrance to Uinta National Forest is among the best and most unique Utah hotels and resorts in the state.


Related Reading: The 7 Best ATV Trails in Utah

3. Visit One of the Nearby State Parks…Or All of Them!
We'll go right ahead and say it. Some of the best things to do in Heber City are found right inside our state parks, and each park is as diverse as the city itself.
Located about 10 miles southwest of Heber City, Deer Creek State Park is a beautiful reservoir that offers countless opportunities for swimming, boating, water sports, and general good time antics.
If you'd rather get your boots dirty than spend a day on the water, Wasatch Mountain State Park is for you. Camp in the Pine Creek Campground, reserve a tee time at one of the famous 18-hole golf courses or hike your way through diverse landscapes—swaying grasslands, colorful cliffs, wildflower meadows, and much more.
For water sports that are a little bit more unique, try Jordanelle State Park. From waterskiing to paddle boarding, there's plenty of fun awaiting you and your family in this part of Heber City.


Related Reading: The 6 Best Hikes Near Park City


4. Drink Up the Scenery at Heber Valley Railroad
Of all the things to do in Heber City, visiting the historic Heber Valley Railroad is an absolute must. The 16 miles of track between the valley and Vivian Park in Provo Canyon offer access to some of the most stunning scenery in Utah.
The scenic excursions range from one and a half hours round-trip to three hours round-trips. Catch the train at Heber Deport, 450 South 600 West, then prepare for an experience of a lifetime as the train winds through picturesque agricultural lands, across River Provo, and along the foothills of the majestic Wasatch Mountains. By the time it's tracing the west bank of Deer Creek Reservoir, you'll be itching to start the ride all over again!
5. Explore the Mountains on a Guided Horseback Tour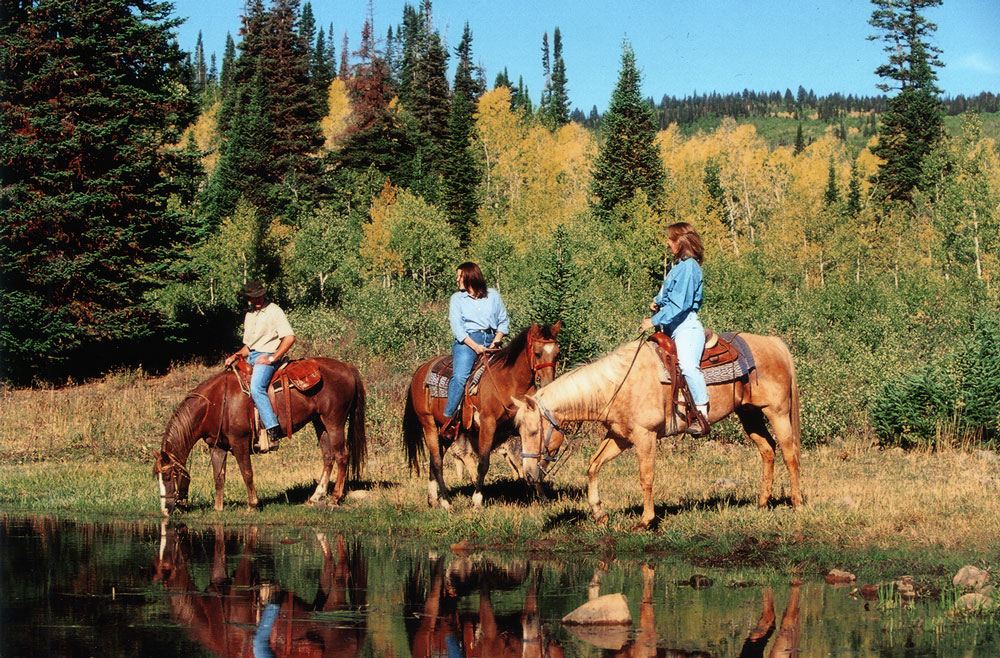 If you're looking for an unforgettable experience, consider joining us at Daniels Summit for an authentic horseback riding experience in the mountains. Far away is the congested city and its noisy highways, allowing you to relax, drink up all the scenery, and even stay in our unique lodge style resort.
6. Get in On the Action at Screaming Falcon Tour
Zipping down a line on Screaming Falcon Tour allows you to accomplish the rarest of feats: taking on the world's longest continuous zipline. Besides, you'll be flying high above a sparkling lake surrounded by towering mountain peaks.
Yes, it's as hair-raising as the name suggests—starting and ending on an 80-foot and including ten zip lines and seven suspension aerial bridges. And once you start, there's no touching down till you're done. How's that for a vacation experience?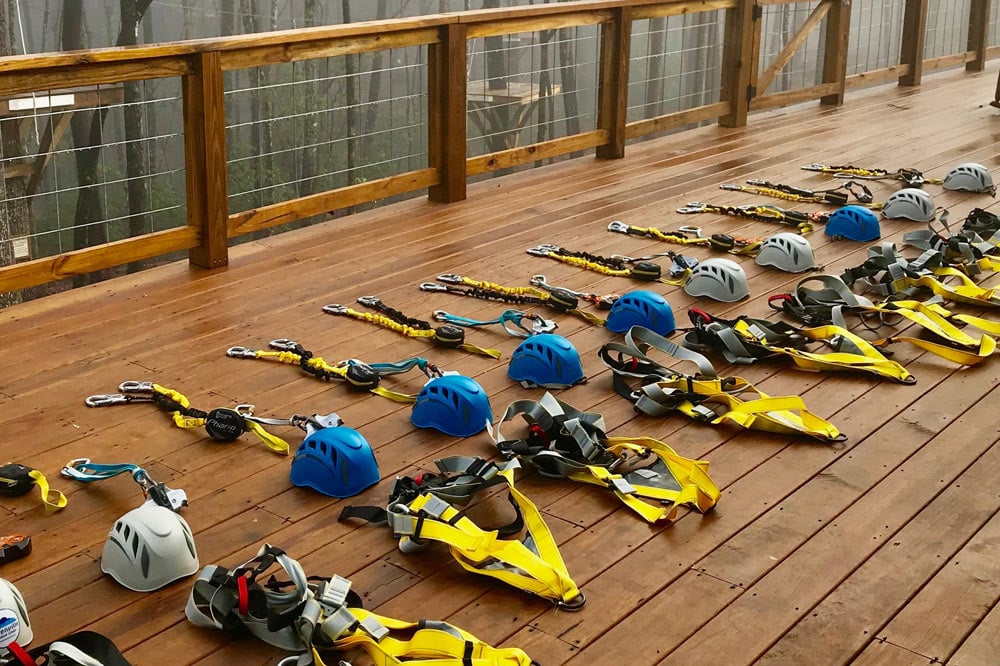 Winter Activities
There's nothing quite like spending a vacation in Heber City when the snow is falling. Read on, take notes, and make all your winter getaways count!
7. Head to Deer Valley
If there's one thing that should definitely make your list of things to do in Heber City, it's Deer Valley. Located a short drive north of Heber City, this resort is what people mean when they're talking about having fun in the height of winter.
Even a quick stop or drive-by will have any visitor ogling the facilities, and the activities offered during the winter months are unbeatable. You'll have an absolute blast here with the skiing, mountain biking, scenic chairlift rides, al fresco dining, and plenty more to round out an action-pack day.
8. Go Winter Tubing
Another exciting winter activity that you and your kids will absolutely love is winter tubing. Let them glide down mountain trails on top of an inflated tube as they laugh their hearts out. Local trails can be found at Uinta Recreation, Soldier Hollow Nordic Center, and Lower Provo River Park.
9. Experience the Thrill of Snowshoeing
Who said you can't hike when it's snowing? Strap on a pair of snowshoes, pack a thermos of hot cocoa, and forge a trail through the powder at Wasatch Mountain State Park or the Uinta National Forest.
Got it alone, or hire a guide to show you a way. They'll bring the poles, snowshoes, and packs, too, so you won't have to worry about a thing.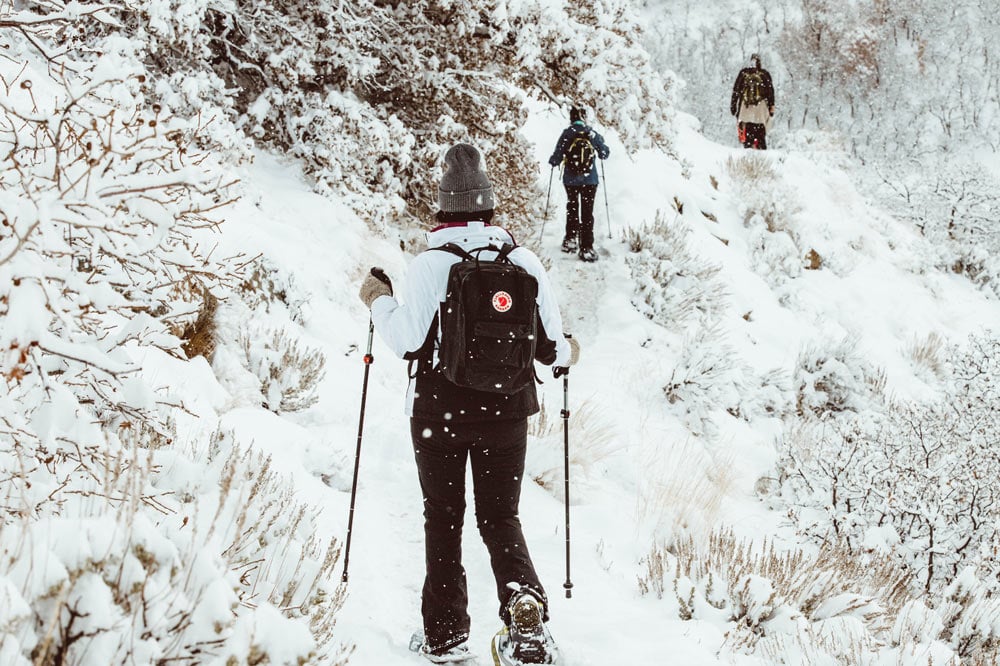 10. Grab a Cup at Filler-Up Coffee
When it's snowy outside and your body can't take the cold anymore, consider popping in at this Midway eatery. Locals love it for its extensive menu of coffee drinks, pastries, hand-crafted sandwiches, and more. A 1930's gas station turned vintage-vibe coffee house, Filler-Up Coffee is a stop you won't ever forget once you give it a try.
11. Enjoy a Snowmobile Tour
How about adding a unique activity to your list of things to do in Heber City during winter? Whether you want groomed trails or untracked isolation, snowmobiling opportunities abound on this side of Utah.
Miles of trails wind through forests and mountains, opening onto expansive plateaus and awe-inspiring meadows. You make the choice whether to strike out on your own into the pristine wilderness or take a guided tour led by experienced guides. But one thing is for sure: you'll have maximum fun!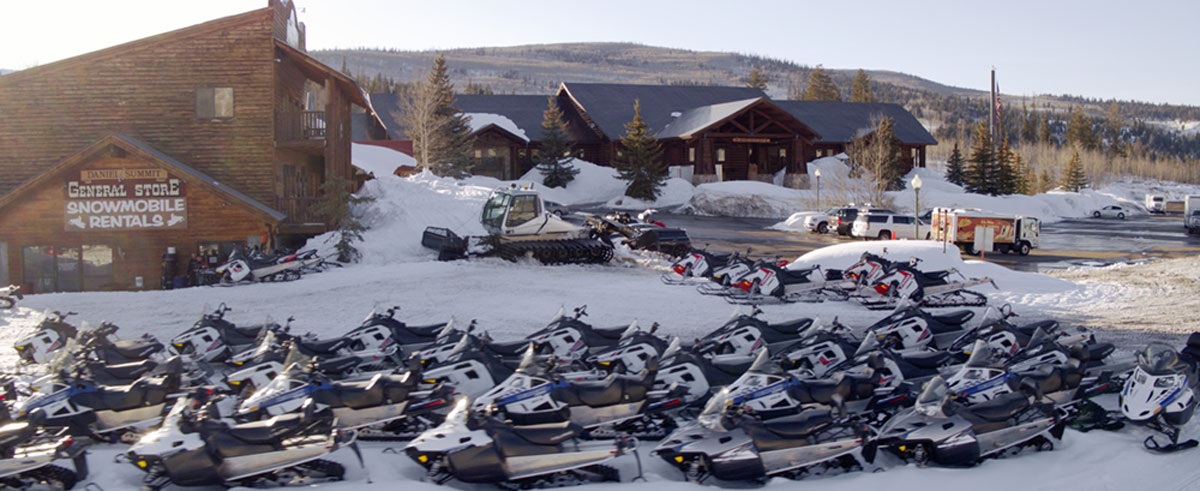 12. Finish Things Off With a Visit to Daniels Summit Lodge
Imagine a place where you can stay in coziness while still partaking in the rich array of activities that Heber City has to offer. A place where it's just as fun and eclectic in the summer as it is during winter. Well, that's Daniels Summit Lodge for you!
We offer the finest lodging facilities in the whole of Heber City. Add that to the UTV rentals, hiking, horseback riding, fishing, snowmobiling, and stay & play packages that we provide, and you'll see why we're Utah's premier vacation destination.

Why leave your vacation to chance when we're just one call away? Contact us today to start planning your next vacation!