Image Credit: CSG Helmets
The location and climate of Utah make it among the best places in the country to experience snowmobiling. With trails ranging from the deep backcountry to groomed trails near the city landscape, there is a path for every rider. Whether you are a beginner looking for a weekend thrill or a diehard snowmobiling enthusiast, it may be time for you to explore the Utah trails.
Below are some of the best snowmobile trails in Utah, ranked from beginner levels to the most advanced. Read on to discover ideas on where to start your snowmobiling experience.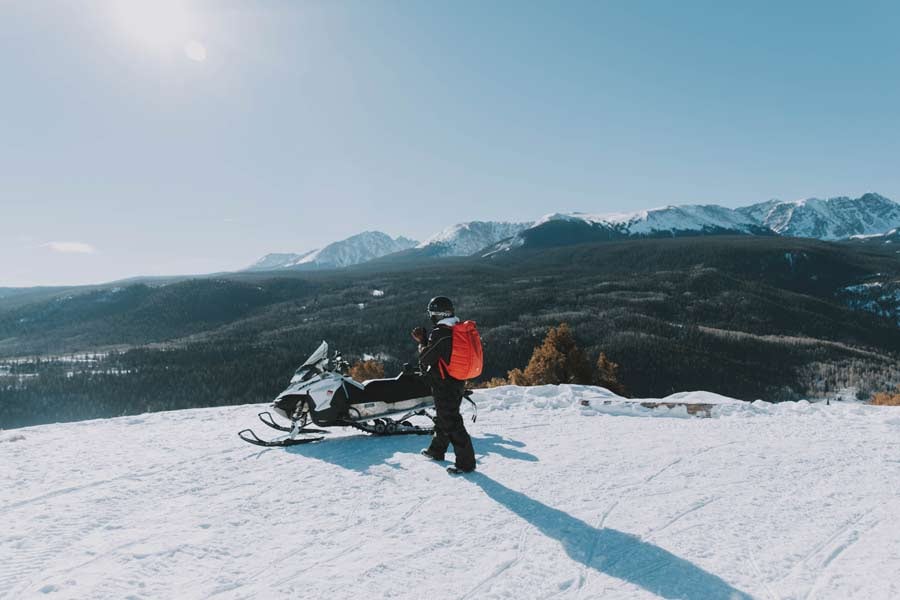 Easy Snowmobile Trails
1. Daniel Summit Lodge Out and Back Trails
Daniels Summit Lodge is located at the edge of the Uinta National Forest, about an hour from Salt Lake City. This is a perfect start for the novel snowmobile rider as we offer both guided or unguided tours. The weather dictates when snowmobiling starts and ends, but typically ranges from Thanksgiving weekend through mid-April. The trailheads begin right at the rental center of the lodge so getting started is extra convenient.
The Daniels Summit Lodge snowmobiling experience is designed with beginners and veterans in mind. The trails are an outdoor enthusiast's paradise, and there are a variety of machines to suit your anticipated snowmobiling experience. Riders are more than welcome to bring their own equipment, but renting is available as well. The 12-mile out and back trail is a particularly great place to start learning what snowmobiling takes. Check out Daniel Summit Lodge's guided tours to learn more.
2. Park City Trails
Park City is the largest ski resort in the Unites States, sitting on a 7,000-acre ranch that is easily accessible from the Salt Lake City metro area. The resort has plenty of amenities and over 300 snowboarding trails to choose from. The area is located in the beautiful American Rockies and overlooks Salt Lake City.
If you are a beginner to snowmobiling, the Park City trails offer guided tours. Packages for backcountry snowmobiling experiences are also offered for riders looking for a bit more of a challenge. If you are in a group of adrenaline junkies, you can ride as high as 10,000 feet on a private or corporate tour.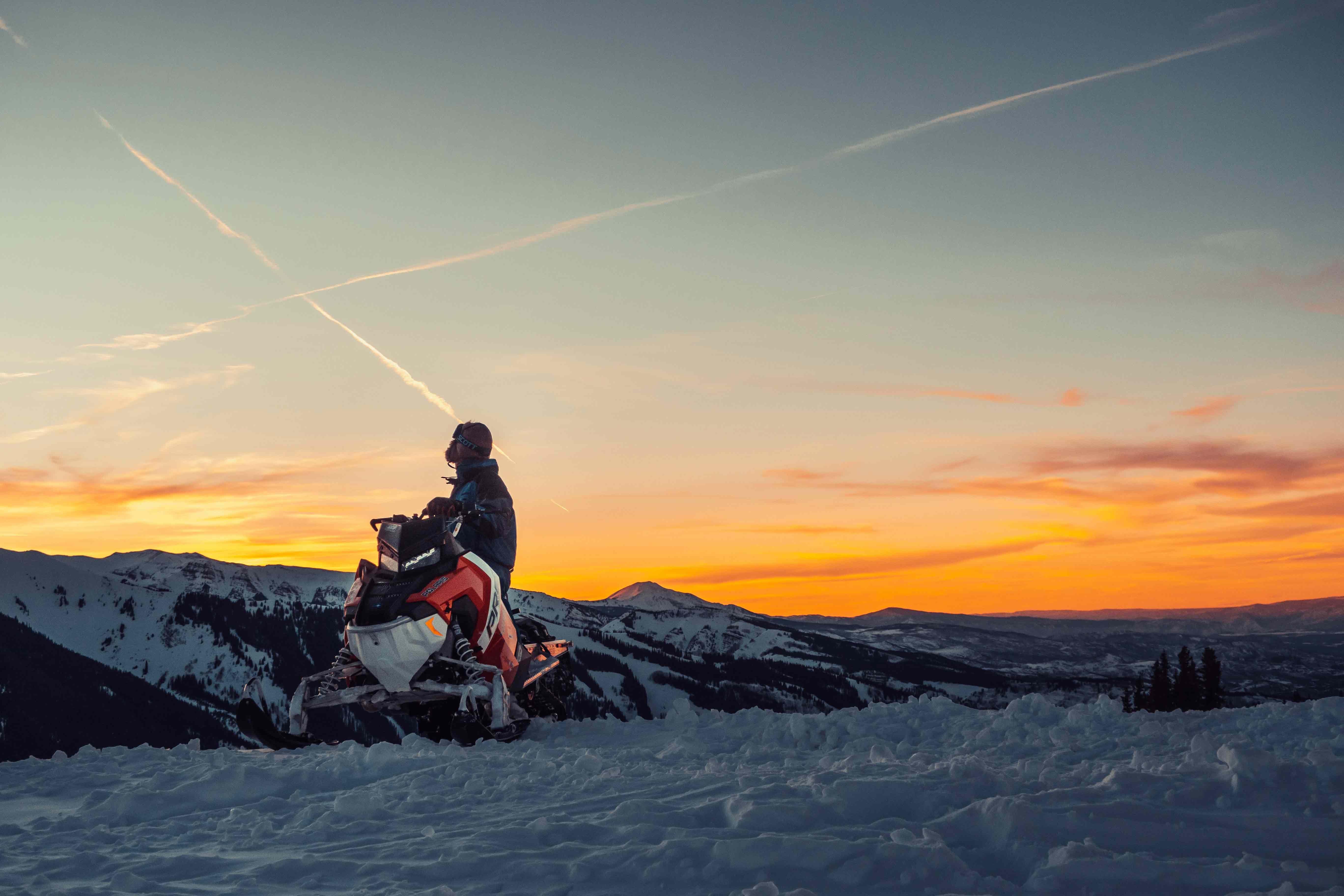 3. Monte Cristo Snowmobiling Trails
The 63-mile Curtis Creek/Ant Flat snowmobiling loop at Monte Cristo Snowmobiling is a must-try for beginner riders. It is becoming one of the most popular trails in the state due to its flat and well-groomed terrain with generally gentle grades. Most of the trail is lined with trees that highlight the true beauty of the Cache valley.
The Ant Flat trail in particular is perfect for beginners looking to gain more snowmobiling practice. Note that other complexes within Monte Cristo pass through private property, and riders are cautioned against trespassing.
Moderate Snowmobile Trails
1. Cedar Mountain Complex Trails
The extensive selection of well-marked trails as well as the stunning scenery make Cedar Mountain Snowmobile Complex among the best snowmobile experiences. The complex has a variety of wide and well-kept trails to offer, and includes views of the Dixie National Forest and Zion National Park. Specifically, the High Mountain Trail is one of the most scenic in the complex and provides riders with a view into the Cedar Breaks National Monument.
As a part of the Utah Division of State Parks, Cedar Mountain offers some of the finest snowmobiling in southern Utah. Check out other popular trails such as Brain Head Trail, Cedar Breaks Trail, Duck Creek, Sage Valley Trail, and Strawberry Point. These trails combine a thrilling experience with breathtaking views that you do not get to see everyday.
2. Ephraim/Manti Canyon
Ephraim and Manti Canyons are roughly 15.4 miles of trail altogether. The canyons provide excellent snowmobiling with connects to Joe's valley and Ferron areas. It provides access to open riding opportunities rising above 10,000 feet. Since the trail is on a plateau right above the Manti and Mayfield towns, there are rarely crowds of onlookers or obstructions.
The varied terrain provides both groomed trails and open fields with fresh powder to glide on. The rides here are a unique experience as they are located in central Utah, away from the crowds of Wasatch Front.
3. Uinta Basin Snowmobile Complex
The Uinta Basin snowmobile complex is accessible from the eastern Uinta Mountains, the highest range in Utah. The complex offers over 75 miles of well-groomed trails that start north of Vernal and end at various snowmobile playgrounds.
The Uinta Basin is most popular for its scenic views and longer riding season that begins in November and stretches until May, in some lucky years. With so many trailheads to offer, this complex is ideal for both individuals or groups looking for a more intimate experience with nature. Each trail is unique, and they feel less crowded due to the abundance of choices. However, beginner riders may want to avoid these trails due to the infamous and ever-present wind that may cause drifting of the trail in some areas.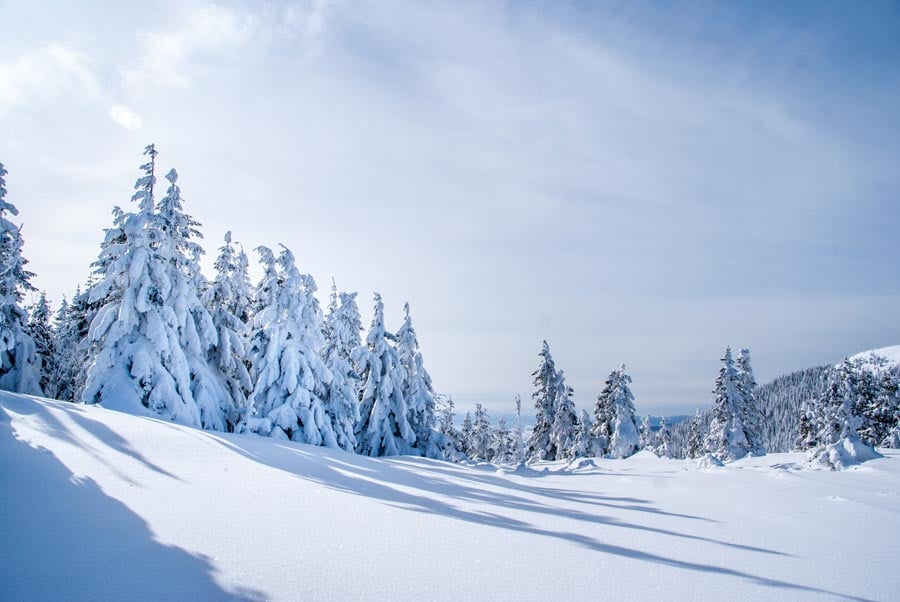 Advanced Snowmobile Trails
1. Daniel Summit Lodge 26 Mile Loop
The Daniels Summit Lodge in the beautiful Heber Valley is a popular destination because of its convenient access to trailheads. The surrounding mountains of the Uinta National Forest create the ideal space for riders seeking a uniquely beautiful environment. Its 26-mile groomed loop is highly recommended for advanced riders. It takes endurance, but seasoned riders love the challenge.
Daniels Summit Lodge offers a wide selection of snowmobile rentals, whether its for first-time riders or the hardcore athletes. Rent a snowmobile and either explore for yourself or book a two hour tour.
2. Logan Canyon Complex trails
Logan Canyon snowmobiling trails range from northern Utah to southeast Idaho and have a variety of levels to offer different riders. However no matter the trail, riders are encouraged to remain in designated areas as wildlife here thrives during the winter. For experienced riders, locals recommend either Temple Canyon or Garden City Trails.
Temple Canyon trail is maintained weekly yet receives a relatively low volume of riders. The canyon is filled with mature pines and deep snow pockets as well as wildlife viewing areas near the eastern end of the trail. Garden City Trails are left to the experienced riders due to its twists and narrow path as it climbs to the Sinks Trail area. This trail receives slightly more traffic than Temple Canyon as it opens to multiple popular play areas. Riders are cautioned to be aware of challenging weather conditions as drifting is a common safety hazard on the trail.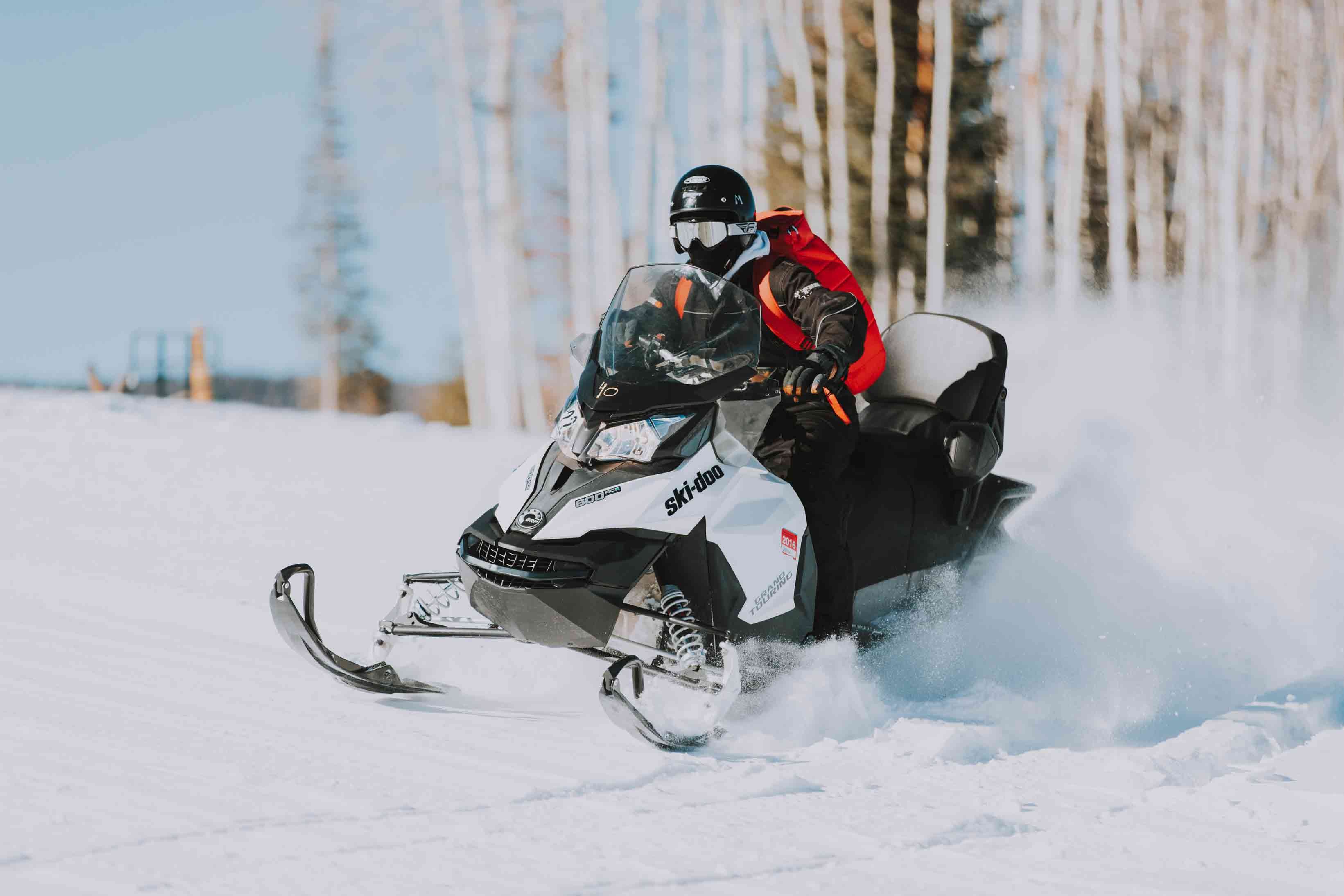 3. Fishlake Snowmobile Complex
With high risk come high reward, but riders beware. The Fishlake snowmobile complex is not for the inexperienced rider as these trailheads are known to aggressively climb to an elevation of 11,500 feet. However such high elevation attracts the advanced riders, as they understand its what makes the scenery so breathtaking. Access to the complex is found through three major trailheads, two of which are particularly advanced. Gooseberry/ Fishlake Trail and Monroe Mountain Trail are the ultimate challenges for those adrenaline junkies. Riders are advised to bring extra food and fuel with them as services along these trails are limited.
Gooseberry/ Fishlake Trail takes riders to the summit of Fishlake Mountain at a total of 23 miles. The narrow trailhead will take you to multiple play areas once at the top of the mountain. The scenery at the summit makes this the most popular trailhead for riders. Monroe Mountain Trail stretches even further at a total of 33 miles. The trail demands strong riding skills as it passes through a steep and narrow canyon. However, this challenge will lead you to the top of Monroe Mountain and provide stunning views you will not forget.
Conclusion
Whether it is your first time riding a snowmobile or you have done it a hundred times, do not underestimate the power of thorough trail research. Location has a direct impact on the quality of your experience. Picturesque mountain ranges, well-groomed trails, and the availability of a great selection of snowmobiles to rent make Utah a top destination for snowmobiling. Visit DanielsSummit.com to discover more about the different riding offers that are best for you.