Ice fishing can be a difficult sport to pick up, but both the thrill and rewards keep the sport alive. Luckily Utah's award-winning waters hold some of the best ice fishing in the country. The abundance of large lakes and reservoirs paired with generous legal limits on certain fish make Utah the perfect place for both beginners and experts alike. However no matter your experience, you need to thoroughly prepare to break the ice and handle ice-cold waters. Let's check some of the ways you can have productive ice fishing in Utah. If you want more guidance on planning your next winter vacation, we've got you covered on tips and tricks as well.
Ice Fishing Gear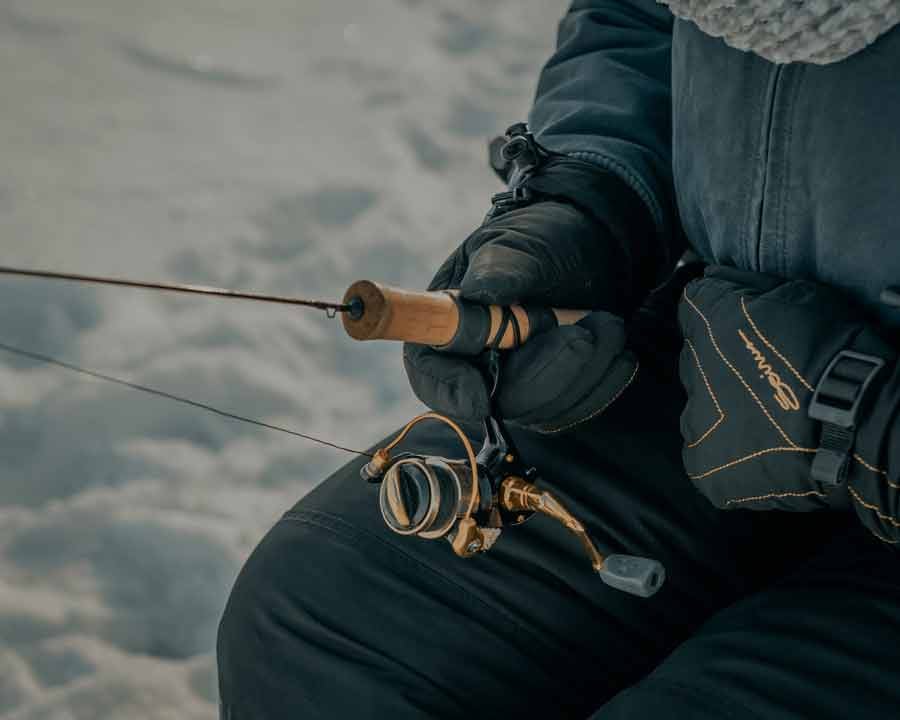 Ice fishing conditions can be unforgiving, so be prepared with the right gear. Low temperatures require that you bring plenty of layers and excess supplies to stay warm. For attire, think about how you would dress if you were skiing or snowmobiling. The ice fishing dress code is not much different. Wear plenty of layers, thick jackets, weather-proof coats and pants, gloves, hats, and thick boots with spikes. After you have your clothes prepared, check out what you will want for equipment:
Ice fishing reels and rods

. Generally in Utah, a person may use up to two fishing poles at a time to fish. However, at Flaming Gorge Reservoir, a person may use up to six lines when fishing through the ice.

Ice auger

equipped with a sizeable bit (preferably 6 or 8 inches) to dig holes. This will be one of your more costly ice fishing expenses, but a good auger is crucial and worth investing in.

Plastic buckets.

Bring some to store your caught fish. Also, bring an insulated bucket with a seat attachment to double as a chair.

Ice fishing sled

to make transporting everything as convenient as possible.

Well-equipped tackle box

to store your live bait, fishing lines, line clippers, etc.

Ice fishing shelter.

Frozen lakes can be windy sometimes, and you need to protect yourself. There are lightweight, portable models that fold up easily and can be moved in a snap.

Safety gear.

The most important safety gear would be a floatation suit to keep you warm and afloat in case you fall through the ice. You should also bring ice picks/ rescue claws to attach to your jacket and a throw rope.
As you get more accustomed to ice fishing in Utah, the equipment and gear will seem less daunting. Remember they are there for your safety and convenience, so it is important to bring everything you need.
Related Reading: Park City Weekend Getaway: 11 Must-Try Activities

Ice Fishing Safety
During ice fishing expeditions, your safety should be your number one priority. Keep these tips in mind in order to responsibly experience the best of what the sport has to offer.
Know the state laws.

For example,

regardless of the number of poles or lines used, an angler may not take more than one daily limit or possess more than one possession limit. Do your research on Utah's fishing laws before heading out on the ice.

Share your fishing plans

with your family, friends, or neighbors. Let them know the name of the lake you will be fishing on and when you plan on arriving home.

Use the buddy system

. You never know what may happen on the ice, and a helping hand will go far.

Stay hydrated.

Dehydration can happen quicker than you think in cold temperatures because your body is working extra hard to keep warm.

Do not drill holes in an ice road.

Excess snow on the lakes leads some fishers to want to fish on an ice road, however, this is never the solution. The road will flood and the entire road will have to be re-routed.

Do not drill holes near another fish house

. The weight of the snow combined with the weight of the fish house is too much pressure, and drilling a hole too close will flood the entire area.

Do not speed on the ice roads

. The road signs on the ice say to slow down to 15 mph for a reason, that being everyone's safety.

Do not blow off others

who need a helping hand. Ice fishing conditions can be unforgiving, so be understanding and help out those who you see is in need.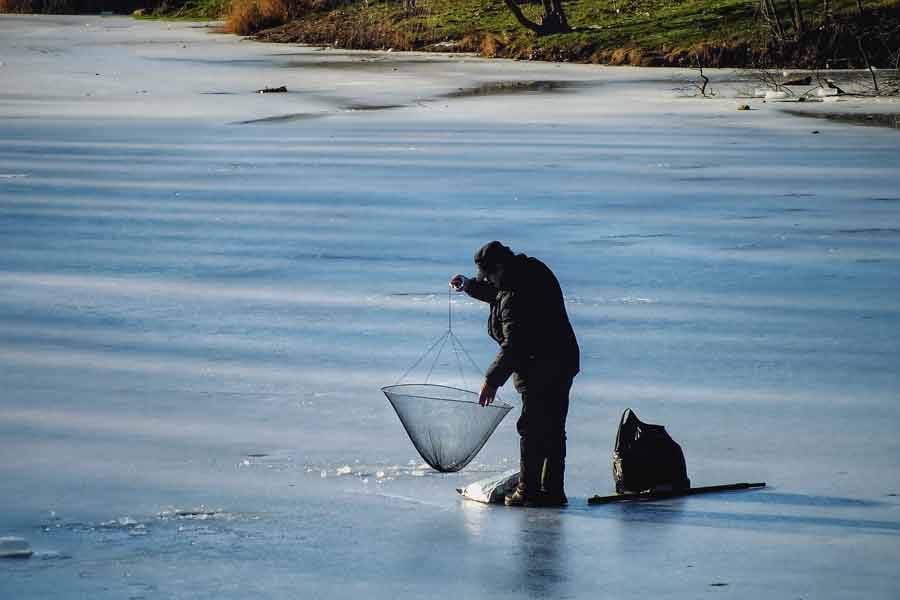 Implementing the above safety tips will set you off to a good start. However, there are still a few more things you can do to help prepare yourself.
If you plan on visiting several ice fishing spots, do thorough research on the environment. Understand where inlets and outlets of the reservoir are located because you'll most likely find thin ice on moving waters.
Utah Lake has numerous hot springs, which makes the ice quite unpredictable in areas where the springs bubble up. The ice in such areas may appear stiff but break at a slight touch leading to drowning. Prior research will help you avoid such unpredictable areas. Lastly and most importantly, make sure you research how to check the ice thickness.
After doing your extensive research and getting the proper gear to hit the ice, the next step should be checking the ice thickness. At times, the thickness can be deceptive. The ice may seem sturdy, but other factors might weaken it. It's always best to confirm the ice thickness before venturing out for fishing activities.
When you're out walking or driving on ice, remember these guidelines as a rule of thumb:
Stay away from ice with a thickness of 2 inches.

4 inches of ice thickness is ideal for ice fishing or light activities on foot.

5 inches of thickness is perfect for a snowmobile

Cars or small pickups can ride on an ice thickness ranging from 8 to 12 inches.

For medium trucks, you need an ice thickness of about 12 to 15 inches.
The guideline covers clear or new solid ice. Always check on other factors, such as hot springs, which make the ice unstable. Another factor may be drought. The Northern Utah fishing report indicates that the state is experiencing drought conditions in 2022. The conditions will impact wildlife and fish in the reservoirs.
Related Reading: Beginner's Guide to Snowmobiling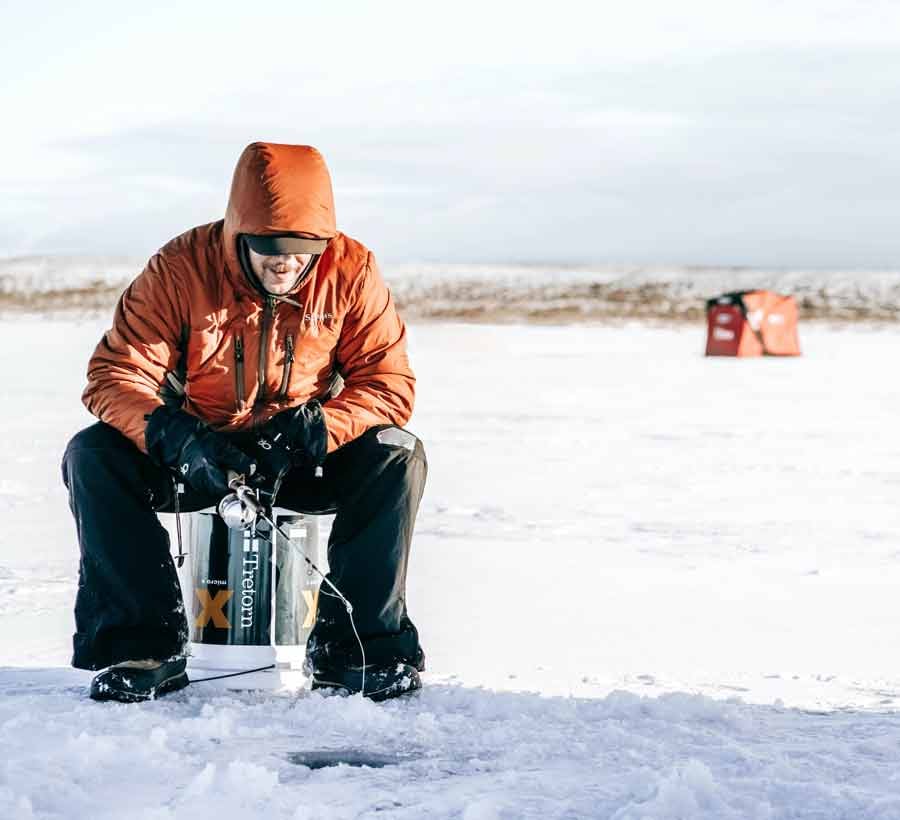 Ideal Ice Fishing Spots in Utah
Utah has several reservoirs that are perfect for ice fishing. For an unforgettable ice fishing experience, check out the following reservoirs:
1. Flaming Gorge Fishing
If you go anywhere in Utah, The Flaming Gorge Reservoir has to be on your bucket list. This reservoir is famously known for its multiple fish species. It is also one of the only places in Utah where a person may use up to six lines when fishing. Keep in mind when using more than one line, an angler's name shall be attached to each line, pole, or tip-up, and the angler should check only their lines. Flaming Gorge also hosts the Burbot Bash ice fishing tournament, where anglers battle to catch the Burbot fish. Cash prizes include up to $30,000 and an ice fishing trophy in the family-friendly winter event.
2. Strawberry Reservoir Fishing
Strawberry Reservoir is known to have large numbers of fish. Successful ice fishing usually starts out strong when the ice is new, then fades a bit as the season progresses. You'll most likely catch kokanee, cutthroat, or rainbow trout. The reservoir is fairly big, and you can get lost, so bring a map and research where you want to go prior to your trip. Also, ensure you check the forecast before you hit the ice. The wind is often a problem here as it can make conditions miserable. The wind seems to be less harsh during morning hours.
3. Rockport Reservoir
Rockport Reservoir is popular among anglers. It is located on the Weber River, just east of Park City. The lake is generously stocked with kokanee salmon, rainbows, and smallmouth bass. Access to Rockport Reservoir is great through the winter on both the east and west sides of the reservoir. Anglers looking for easy access with snow machines or large sleds can utilize the main boat ramp within the state park. Rockport is definitely a hot spot for fishing year-round, but ice fishing here is a must-try experience. If you are able to add it to your bucket list you will not be disappointed!

Experience Memorable Ice Fishing Today
Ice fishing in Utah is becoming increasingly popular. Now that you've done your research, you can put your skills to the test. Who knows, maybe one day you will end up in the Burbot Bash ice fishing tournament! Anything can happen when ice fishing, which is why we've prepared you for the best experience possible. With that in mind, we have also got you covered for the best accommodation in the area. After a long day on the ice, rent a snowmobile to quickly take you back to our cozy lodges at Daniels Summit. Contact us today for more information about snowmobile rentals and accommodation.